Četrtek, 16 februar, 2017
22:00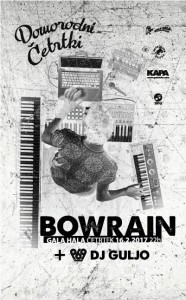 DOMORODNI ČETRTKI: BOWRAIN
POSLUŠALNICA 69: DJ GULJO
V brezplačni serialki predstavljanja domačih alternativnih zasedb se tokrat obračamo k delu bolj kot ne v tujini živečega domačega skladatelja, pianista in producenta Tineta Grgureviča, sicer precej bolj znanega pod umetniškim imenom Bowrain. Bowrain je svoj štart doživel leta 2012, čeravno je Grgurevič svoj prvenec kot jazz pianist ter skladatelj v resnici izdal v Philadelphiji leta 2009, z izdajo jazzerskega albuma Balcan Flavour, ki mu je še istega leta sledil Images of Reality, leto kasneje pa dialog med pianom in govorom, naslovljen Duet with Slavoj Žižek.
Kot Bowrain je leta 2014 izdal čislani prvenec Far Out, za katerega je nizozemski webzine Festivalinfo zapisal, da je » reminiscent of the work of Thom Yorke, Four Tet and Massive Attack. This is not just another debut album«. Promocijski koncert je bil odigran v amsterdamskem Sugarfactoryju, Bowraina pa smo v domačiji lahko zasledili na festivalu Ment, Piano Day Ljubljana, kot predvoznika Lambov in na nekaj drugih koncertih.
Zvočno Bowrain za črnobelimi tipkami klesa svojo dokaj sramežljivo, a čarobno in impresivno zvočno podobo, prežeto z ritmi ambientale in v nekaj primerih sodobne elektronike. Mentalno je blizu temu, kar počne Nils Frahm, po polju senzibilne ambientalnosti, s pravšnjo mero poznavanja teorije in prakse, pa vstopa v samosvoj glasbeni svet, mnogokrat tudi preko premišljene repeticije. V kolikor je bil njegov prvenec »Far Out« znanilec spajanja skladateljske, klavirske in producentske tvorbe, je bil leto dni kasneje izdan album remixov prijeten izlet v polje sodobne elektronike, triphopa in ambientale, ki je še kako ohranjal duh siceršnjega dela Bowraina. Po remixih Bowrain na svojem Bandcampu izdaja posamične kompozocije, ena od njih »A New Beginning« pa je doživela celo to čast, da jo je na svojo "Piano Day 2016″ playlisto uvrstil Nils Frahm, s katerim ga v domačiji primerja veliko glasbenih poznavalcev. Zaključimo lahko kar s citatom londonskega Clasha »Bowrain is annoyingly massive talent«, v kar se lahko prepričate tudi na njegovem brezplačnem koncertu na odru Gala hale.
Bowrain je tik pred izdajo novega albuma Distracted, ki je plod sodelovanja s kitaristom Mariem Babojelićem in bobnarjem Robertom Nitschkejem poleg ostalih gostujočih glasbenikov. Na koncertu se bo predstavil s kitaristom Mariem Babojeličem, posebna vokalna gostja pa bo Maarina Martensson na vokalu.
Februarska poslušalnica gosti tekstilnega inženirja Gala Hale, ki skrbi za vaše Gucci torbice in jakne. Sensei Guljo se bo posebej za to priložnost transformiral v DJ-a, od vas pa za svojo storitev ne bo terjal evrskega kovanca. Starejše hip hoperske glave se verjetno mladeniča spomnijo kot DJ-a na rapperskih dogodkih izpred dobrega desetletja, avtohtoni Fužinec na začasnem delu v Šiški pa bo za tokratne goste poslušalnice obrisal prah z vinilnih plošč in predstavil svojo glasbeno zbirko, ki jo je začel polniti v poznih najstniških letih. Lepo vabljeni na hip hop zvarek z začimbo še kakšnega drugega žanra.
Vstop prost!
Spisek 69 plat na Poslušalnici:
A Tribe Called Quest ‎– People's Instinctive Travels And The Paths Of Rhythm
Astor Piazzola – Libertango
Atomic Forest ‎– Obsession
Barry White And Love Unlimited ‎– Barry's Gold
Beans ‎– Tomorrow Right Now
Billy Cobham ‎– Spectrum
Billy Tipton Memorial Saxophone Quartet – Saxhouse
Blaž: Don't listen to this
Charles Mingus ‎– The Clown
Compay Segundo ‎– Lo Mejor De La Vida
Count Basie ‎– Atomic Basie
Count Bass D ‎– Dwight Spitz
C-Rayz Walz ‎– Ravipops (The Substance)
Danger Doom ‎– The Mouse And The Mask
De La Soul ‎– The Grind Date
Dead Can Dance ‎– Anastasis
DJ Shadow ‎– The Private Press
Dr. Octagon ‎– Dr. Octagon
Dungeon Family ‎– Even In Darkness
EKV ‎– Iznad Grada
El Bahattee ‎– Svaki Pas Ima Svoj Dan
Fratellis ‎– Eyes Wide, Tongue Tied
Goodie Mob ‎– World Party
GZA ‎– Liquid Swords
Hi-Tek ‎– Hi-Teknology
Jaylib ‎– Champion Sound
J-Live ‎– All Of The Above
Jonwayne ‎– Rap Album One
Kabir ‎– Cultural Confusion
Kid Koala ‎– Some Of My Best Friends Are DJ's
Klaus Doldinger ‎– Passport To Paradise
Klemen Klemen ‎– Trnow Stajl
KMD ‎– Mr. Hood
Kool And The Gang* ‎– Best Of…
Kraftwerk ‎– Trans Europe Express
KRS-One ‎– I Got Next
KutMasta Kurt Presents Masters Of Illusion ‎– Masters Of Illusion
Looptroop ‎– The Struggle Continues
Mahavishnu Orchestra* With John McLaughlin ‎– The Inner Mounting Flame
Miha Kralj ‎– Andromeda
Money Mark ‎– Push The Button
Moveknowledgement ‎– Sun Sun
Nas ‎– 10 Year Anniversary Illmatic Platinum Series
Notorious B.I.G. ‎– Ready To Die
Ol' Dirty Bastard ‎– N***a Please
Organized Konfusion ‎– Organized Konfusion
OutKast ‎– Big Boi & Dre Present…Outkast
peep; ‎– The Joy Of Being
Pete Rock & C.L. Smooth ‎– The Main Ingredient
Phat Phillie, DJ Frx ‎– Present Blackout 10
Pink Floyd ‎– Wish You Were Here
Prince Paul ‎– Psychoanalysis (What Is It ?)
Prince ‎– The Very Best Of Prince
Public Enemy ‎– It Takes A Nation Of Millions To Hold Us Back
Pucho & The Latin Soul Brothers* ‎– Tough!
Quasimoto ‎– The Unseen
RJD2 ‎– Deadringer
Royal Blood ‎– Royal Blood
Sole ‎– Selling Live Water
T.B.F. ‎– Ping-Pong – Umjetnost Zdravog Đira
The Meters ‎– Rejuvenation
Ultra ‎– Big Time
United Future Organization ‎– United Future Organization
UNKLE ‎– Psyence Fiction
Various ‎– Crooklyn Dub Consortium – Certified Dope Vol. 1
Various ‎– Dual Form
Various ‎– For The Masses
Wu-Tang Clan ‎– Enter The Wu-Tang (36 Chambers)
X-Ecutioners ‎– X-Pressions