Torek, 15 avgust, 2017
21:00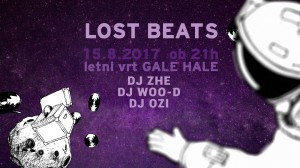 LOST BEATS
DJ OZI (Radio Nula)
DJ WOO-D (GOR,Tetkine Radosti)
DJ ZHE (Pod Pritiskom)
Še zadnje poletno odkrivanje pozabljenih in izgubljenih beatov na letnem vrtu Gala hale se obeta! Tokrat bodo krpe v roke vzeli Ozi, Woo-D in Zhe ter obrisali prah s prezrtih plošč hip hop, trip hop in ostalih beats žanrov. Vabljeni na druženje ob fini muziki!
"If you talk to the average teenager of today and you ask them about music what they like, the first thing they'll say is "the beat, the beat, the beat."
Vstop prost!
Facebook >>
*v primeru slabega vremena bo prireditev potekala v dvorani s pričetkom ob 22h!