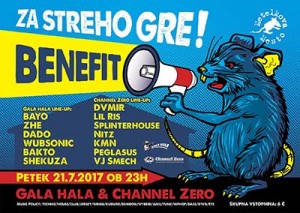 Friday, 21st July, at  23:00
It's about the roof (…and the kids underneath)! Fact: roof above Pešci (for the uninformed: it's the huge building where, among others, the clubs Gala Hala and Channel Zero are located) has more holes than Swiss cheese. This would be totally fine if we had a Swiss bank account with 100K Swiss Franks.
Since this is not the case, we asked our guys who take care for dance escapades in both clubs to play some tunes, each for about an hour. You're gonna have a nice time, while we'll be able to gather some money.
And if we're lucky we only have to do forty of these events and in 2030 we can finally start fixing the roof.
Gala hala line-up:
BAYO (funk set)
ZHE (Pod Pritiskom; hip hop/funk set)
DADO (breakbeat/bass set)
WUBSONIC (Underground Pulse; d'n'b set)
BAKTO (Tekk dj's, Tetkine Radosti; svaštara set)
SHEKUZA (Versus; techno set)
Channel Zero line-up:
DVMIR (SNIF)
LIL RIS (SNIF)
SPLINTERHOUSE (Synaptic)
NITZ (Synaptic)
KMN (Bojler)
PEGLASUS (Bojler)
Visuals: VJ Smech
Music Policy: techno/house/club/jersey/grime/kuduro/dembow/hybrid/juke/funk/hiphop/bass/d'n'b/etc
Common entrance: 6 €