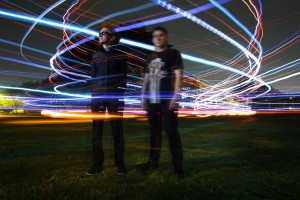 Saturday, 22nd July, at 21:00
New Zealand's electronic duo Pitch Black is stopping for the first time in Slovenia on their way to Seasplash festival and Ozoro.
Pitch Black consist of multimedia artist Michael Hodgson and producer of Salmonella Dub, Paddy Free. The duo, which stems from New Zealand's rich electronic scene, has managed to win over all corners of the world with their five studio albums – be it through distribution of music or live performances. If you haven't caught them live, you've surely heard them on trance/dub/chill out parties, where they frequently appear on diverse DJ selections.
Pitch Black is a combination of different musical travels. A distinct sound that is hard to categorize. Ambient of early albums later progressed into a multifaceted soundscape. Acid riffs, powerful rhythmic grooves and, most importantly, DUB as the basic expression and glue that binds their beautiful landscape of sounds. The outline "Orbital meets King Tubby, or Rhythm and Sound in Technicolor" is quite telling. Their music comes to life during live performances, amplified by awesome visuals. Check it out!
AFTER:
Tristiana (Sektor Selektor)
Tiann (Forestedlic records)
Entrance:
free entrance until 22.00,
5 € until midnight,
3 € after
*in case of bad wather we are indoors and start at 22:00